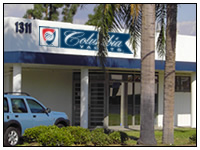 Sailing enthusiasts will remember the original Columbia Yachts, born in the late 50's. Guided by Richard "Dick" Valdes, Columbia Yachts put over 30,000 sailboats in the water through its peak in the late sixties and early seventies. The company's sailboats came to be known for classic designs (penned by such famed designers as Sparkman & Stephens, Bill Tripp and Alan Payne), comfortable features, hardwearing construction and good value.
We are proud to continue this tradition by building on a vision that has been passed through the Valdes boat building family. A vision to offer performance sailboats combined with comfort and exceptional value. Today we build state-of-the-art, vacuum-infused carbon fiber racing sailboats that are "lighter, faster and stronger" – and can still be fun for the whole family!
Exhaustive and continuous refinement of our designs produces boats that perform at the top of their class, with systems that are simple, efficient and easy to maintain. Whether ocean racing with a full crew, single or double-handed, or relaxing with the family, the boat is easily manageable and logically designed, giving efficient and hassle-free performace.